Events
Call Out for Vendors
2022 Halton Freedom Celebration Festival
Saturday, July 30, 2022 - Spencer Smith Park, Burlington, Ontario.
12 Noon – 11 p.m.
The Halton Freedom Celebration Festival brings together musical acts, children's and youth activities, cultural art, food, crafts; heritage, historical, and genealogical vendors promoting inclusivity and community integration.
Our 2019 Festival attracted a 270% increase in visitors – 4000+ participants. This is our first live festival since 2019 and your opportunity to join our growing reunion celebration.
HBHAS invites you to take the journey with us!  See what a difference this multi- cultural experience can make in progressing the next generation.
Click here for more vendor information.
Interested parties please submit your interest by completing the form on the contact page of this website.
Be a Part of Progressive Change in Canadian History
Thank you for your interest and consideration.
2021 HBHAS EMANCIPATION ART EXHIBITION
On behalf of HBHAS, thank you to all of our 2021 Emancipation Art Exhibition participants. Your works continue to present great Art contributions to our growing audience. Thank you Francesca Durham. HBHAS Art Curator and Judy Daley, Curator, Helson Galleries, Halton Hills, for your leadership and setting up another exquisite presentation. Thank you Dejehan "Luckystickz" Hamilton for your musical accompaniment to our Exhibition, and thank you Richard Durham for your Videography. We look forward to your participation at our live Freedom Festival next year and we'll be in update as developments proceed. Have a great year and Best of continued successes.
The 2021 HBHAS Emancipation Art Exhibit.
Artist Spotlight: Joan Butterfield showcased a few gems from her Pour Collection and shared some exciting larger works paying tribute to our frontline Shero's, simply stunning!!!
HBHAS 4th Annual Art Exhibit Celebrating Freedom
August 1st - September 3, 2021
Get to know the people behind the art.
Featuring 12 African Canadian local artists.
Location: Cultural Center
9 Church Street, Georgetown, Ontario
Monday: 1:00 pm - 8:30 pm
Tues - Thurs: 9:30 am - 8:30 pm
Fri & Sat: 9:30 am - 5:00 pm
Click Here to download the pdf.
Contributing Artists: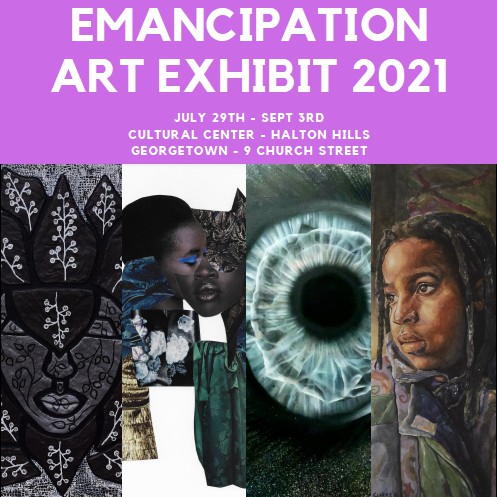 2021 HBHAS Halton Freedom Celebration Festival
The HBHAS 2021 Free Virtual Halton Freedom Celebration Festival, celebrating Emancipation, took place on August 1, 2021 at 5 p.m. This program presented historians, government representatives, community leaders and exquisite entertainers, a number of which are descendants of enslaved peoples, orphaned youths, and freedom/equality activists denouncing racism and promoting cultural knowledge, inclusive integration and authentic equality.
This presentation welcomed everyone to celebrate, through inspiring narratives and exquisite music, 187 years since the British Emancipation Act of 1834 and appreciate the Halton, Hamilton, Niagara area as being where the Emancipation process began; recognizing our first year of Canada's legislated National August 1st Emancipation Day and Burlington, Ontario, Canada being the first city in the world to acclaim August as Emancipation Month.
The virtual festival was live streamed on our YouTube Channel on August 1st, 2021 at 5:00 pm. It featured Blackburn - Michael Dunston and Soul Stew - Neema Project and more. This year's amazing host was Dejehan Hamilton .
Video
2021 Virtual Halton Freedom Celebration Festival
Art Work by Anna Maria Dickinson,
HBHAS Art Director
The HBHAS was honoured to partner with the Canadian Caribbean Association of Halton (CCAH) who hosted an Emancipation Day Drive-thru BBQ in Oakville where 200 free meals were provided. [Event Poster Link (pdf)]

The Halton Black History Awareness Society (HBHAS) produces and promotes inclusivity events focusing on supporting the implementation of cultural history into the educational curriculum and public mind-set, and celebrating Canadian Black History contributors, cultures and community integration. We celebrate Halton's cultural history through dance, art, music, spoken word, historical literature, theatre and information/educational forums and workshops. At our Halton Freedom Celebration Festival, held annually on the August Civic weekend Saturday, you'll experience exceptional multi-cultural ambience infused with Cultural Crafts, Art in the Park, Cultural designer fashions and accessories, exquisite food, and youth and children's activities and workshops which complements the best in R&B, Reggae, Soul, Funk, African, Cuban, Jazz Fusion, Ska, Soca and Pop.
Our Emancipation Art Exhibit, "Celebrating Freedom" is held annually at various Halton locations throughout the month of August. Here you will meet a number of exquisite Canadian Black Artists and experience their artistry of love, bondage, beauty, family, and expression in illustrating their Emancipation. The HBHAS welcomes you to enjoy this enlightening free exhibition in kicking off our annual Halton Freedom Festival. 
The HBHAS Speakers' Forum is held throughout the year, encompassing theatre, spoken word, Canadian Black history presentations; spoken word, cultural education in diverse professions: heritage, genealogical and black history forums and workshops, inclusivity and diversity workshops and presentations, and mentorship programs. The Speakers are by subject matter experts, historians, genealogists, cultural and inclusivity educators, and multi-talented actors and actresses. Guests are constantly stating that they've learned more here in one session that throughout their careers or history. Appreciating that a lot of North America's rich black history was hidden or manipulated, these programs are extremely enriching and educational. We welcome individuals interested in discussing enhancement to their programs or presentations to reach out to hire speakers, performers, and musicians at
hbhas2015@gmail.com.
Video
2019 Halton Freedom Celebration Festival
It is the vision of the Halton Black History Awareness Society (HBHAS) to celebrate Halton's diverse cultures through Cultural Education, Cultural Enhancement and Cultural Entertainment. The Halton Black History Awareness Society is intent in supporting Halton's potential in being a Cultural Capital within Canada.
All venues are open to the public and promote inclusivity. The HBHAS constantly collaborates with a number of community partners in presentations and workshops within schools and community centers throughout the year towards the implementation of cultural history into our educational cultures.  Thank you for your interest.
Click Here for Past Events
Please ... help fund this worthy project with a donation!